guardian.co.uk
Adam Gabbatt in New York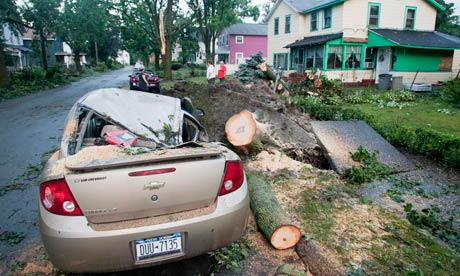 Elmira, New York sustained some of the worst damage from Thursday's storms, a possible 'derecho' weather event. Photograph: Adam Fenster/Reuters
Heavy thunderstorms and high winds hit the north-east US on Thursday, felling trees and power lines and causing a state of emergency to be declared in the upstate New York city of Elmira.
Two people were killed in the storms: a 61-year-old man who died after scaffolding collapsed outside a church in Brooklyn, and a woman who was hit by a tree in Pennsylvania.
Some 33,000 people were left without power following the storms, which moved through New York, New Jersey, Pennsylvania and Connecticut.