The inspiration for the next Google or search-and-rescue drone may spring from a seemingly unlikely source: Watching how animals sniff out food; innovators in everything from robotics to Internet search engines study patterns that animal predators walk while searching for prey; mathematical models which have been used in the past to study these patterns, however, are in need of a little revamping, researchers say — because in the animal kingdom, scent plays a major role in tracking prey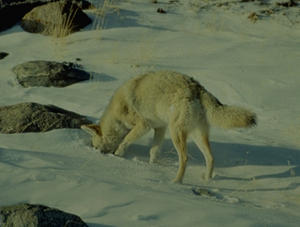 Coyote hunting by searching for scent of prey // Source: nps.gov
The inspiration for the next Google or search-and-rescue drone may spring from a seemingly unlikely source: Watching how animals sniff out food, according to new University of Florida research.
Innovators in everything from robotics to Internet search engines study patterns that animal predators walk while searching for prey. Mathematical models that have been used in the past to study these patterns, however, are in need of a little revamping, the UF study finds — because in the animal kingdom, scent plays a major role in tracking prey.
The study appears in the 10 July edition of the Proceedings of the National Academy of Sciences.

Read more.